How To Draw A Flower Vase
Perhaps many people will put vases at home to add vitality and an artistic atmosphere to the home. But flowers will always fade and wilt, so why not try creating a flower vase yourself and making your own everlasting flowers bloom? Follow our flower vase tutorial step by step!
List of Supplies: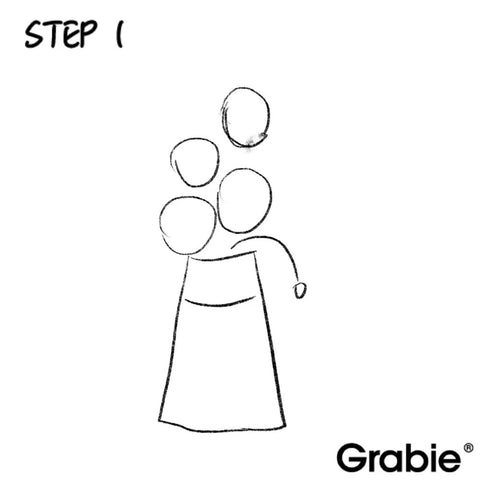 Step 1: Draw Rough Shapes
Let's start the flower vase drawing by sketching the basic outline of our vase. Draw a trapezoid shape for the base, which will serve as a sturdy foundation for the rest of the drawing. Then, add four irregular circles on top of the vase shape, each of a different size. These circles will be transformed into the flower and its beautiful petals.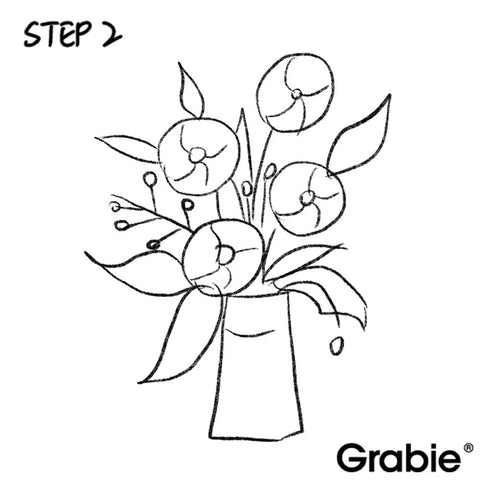 Step 2: Draw The Basic Outline
Now it's time to breathe life into your flower! Create texture by drawing lines in the middle of each circle, adding depth and dimension to each petal. Then, add some leaves and small fruits around the flower to give it a complete look. Don't forget to carefully evaluate the details you incorporate into your design and make sure they enhance its overall aesthetic appeal. Strive for balance and harmony in every aspect of your creation.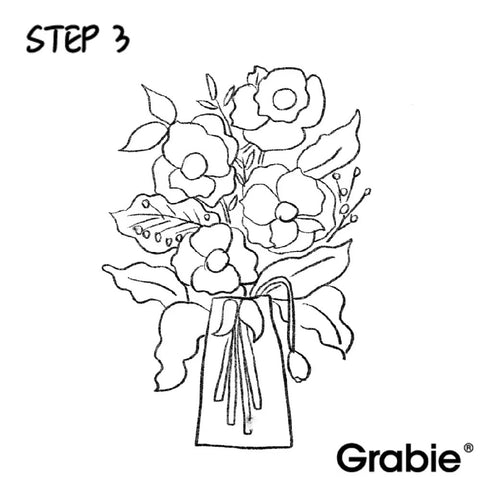 Step 3: Add Texture and Detail
Once you have a rough draft of the flower vase painting, take a moment to refine it. Erase the circle used in Step 1 and use flowing wavy lines to indicate petal shapes instead. Remember branches in the vase and a budding flower to add depth and realism to the piece.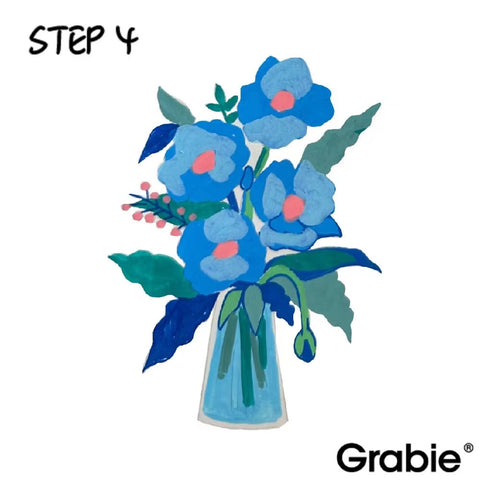 Step 4: Apply Simple Coloring
It's time to bring some color to your flower vase by using our acrylic paint markers. Begin by filling in part of the petals with light blue to represent water in the vase. Move on to blue to complete the remaining petals, before using a combination of light green, dark green, and dark blue to color the leaves. Finally, add pops of pink to decorate the stamens and fruits, creating an eye-catching contrast throughout the simple flower vase drawing.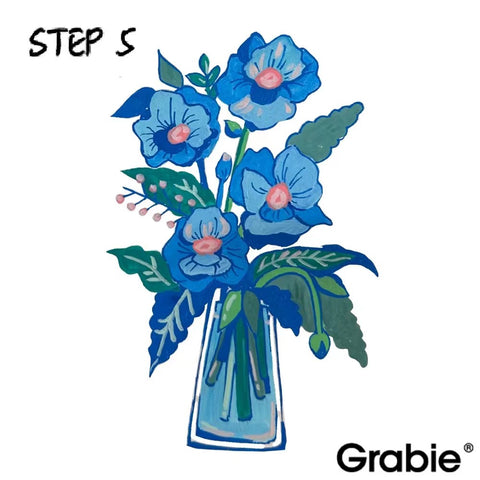 Step 5: Coloring Light And Shadows
To really make your flower vase painting stand out, apply some detailing techniques. Paint the petals with a bold stroke of blue, while adding a touch of glimmering silver to the stamens, leaves, and stem. This will bring a new level of depth and detail to your masterpiece! Then, transform your vase into a work of art by tracing its contours with a rich blue hue, and then adding contrast and depth through the use of bright whites in the center. This technique, known as chiaroscuro, will add a captivating element of drama to your composition.
Voila! With these five steps, you now have a beautiful vase of flowers that's sure to impress anyone who sees it. Remember, all things are difficult at the beginning. Don't hold back just because you're a novice! Happy drawing!
Download Our Free Art Guide
Follow this step-by-step guide to learn How To Draw A Vase with acrylic markers.
1 comment