Grabie Artist's Reviewing on 72 Colors Pencils Set
 Steph Moraca is a professional fine artist from Pittsburgh, PA with a focus on contemporary realism landscape painting. She has been painting since 2002. Steph received formal art training from the University of Pittsburgh and received a BA in Studio Arts in 2012. Today, she sells originals and prints of her artwork to private collectors across the United States. She is known for her golf landscape paintings and paintings of national park landscapes. Grabie is excited to invite Steph to give her reviews on her experience with Grabie products. Let's start this journey with Steph Moraca !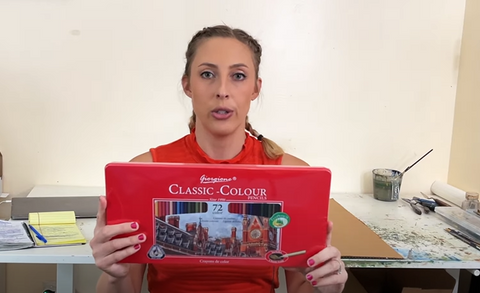 Steph Moraca has chosen this set of 72 Colors Professional Oil Based Colored Pencils which was a top Grabie seller in the month of September. This set of products can be used for coloring books, drawings, sketches, mixed media designs, etc.
 Steph Moraca unboxed the Grabie package and said with a smile, 'It is so cute to have a 'Thank You' postcard inside.' And then Steph Moraca commented on the safe and good packaging as the product was bubble packaged inside the box. She took one of the pencils, 'They are round, but they are a little bit triangular, so it is easy for fingers to grab.' But one thing that felt strange was that the name of the color is not on each pencil. Grabie has heard these comments and will continue to make process improvements to ensure customer satisfaction and to help our customer have a better understanding of each color.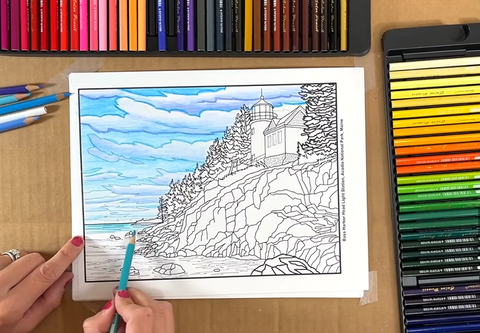 Steph Moraca tried to put some colors on the landscape page of the watercolor book. She mentioned that it seemed to get all the color she needed with this set of 72 color set. With gentle pressing, the pigments can come off on the page easily and quickly. And then she tried to use different ways to show how to use watercolor pencils in different ways. The picture suddenly came to life with the beautiful colors. Steph Moraca also made a comparison with other professionals and said that this product is very nice for color blending and the price is cheaper than other quality and professional products. She expressed she would recommend this product.
In the end, Steph Moraca finished her artwork and she said she has used lot of the color of this product, and she was very happy with the quality of this product as it requires to press a little harder when using light color to help get good soft blend, and when having transition to the dark color, she liked how colors work with each other, and it creates a nice effect. She said it would be a great product for anyone who would like to practice and the price is much lower than other professional products. She has recommended this product for those who are interested in drawing more than once.
Trying to promote the quality and creative products is what Grable is persistent from the very beginning. The break-resistant cores allow users to layer colors and shade artwork without having the tips break while working. These smooth and highly pigmented pencils make blending, layering, and mixing colors a breeze. You don't need to worry about damage as convenient storage protects the durable pencils. And you can easily find the color you like to choose from the clear label for this set of products. With a quality set of products, you will totally enjoy the process of art creation.
You can find many other unboxing videos on Grabie's products from the link https://www.youtube.com/results?search_query=grabie
Also you can follow us  INS account @ grabieofficial to find more creative artworks and great Grabie'sartists. (https://www.instagram.com/grabieofficial/)
Thank you for your time with this journey and your support for our product makes a difference.